Welcome Watermelon Lovers!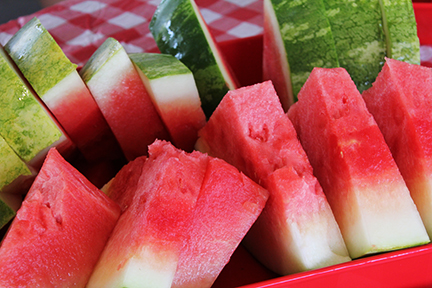 The South Carolina Watermelon Board and the South Carolina Watermelon Association invite you to learn all about the Palmetto State's sweet summertime treat – watermelon, the smile fruit. We call it the smile fruit because it's the food that makes people smile. It's sweet, juicy, and fun! But watermelon is also versatile and healthy.
We invite you to scroll through our new website to learn all about watermelon. You'll find watermelon's history and facts, varieties, production, preparation and storage, and promotion as well as festivals and events held in honor of South Carolina's sweet fruit.
Whatever your mood, there's a watermelon dish to suit your taste. Search our recipes for everything from salsa to smoothies. Anytime of day or night is the right time to enjoy watermelon. Carve a watermelon to make a great basket for fruit salad or a centerpiece for a party.
Watermelon is as healthy and nutritious as it is delicious! Packed with vitamins and minerals, watermelon is a lycopene leader healthy snack that benefits the whole family. Watermelon is available in South Carolina at supermarkets, farmers markets, roadside markets, and other places where produce is sold.
---
Event Forms
---
Hot Topics
---
2018 SC Watermelon Queen
Emily Dicks is the daughter of Hamilton and Michele Dicks of Barnwell, SC.  She is currently a Junior at The University of South Carolina and is majoring in Retailing with a concentration in Fashion Merchandising.