843-665-5154
2513 West Lucas Street
Florence, SC 29501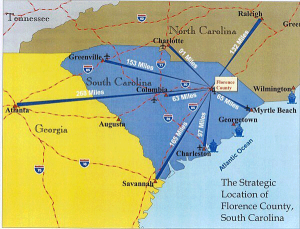 Situated on fifty-five acres of once rural farmland, the Pee Dee Market, located on US Highway 52 (between Florence and Darlington) is convenient to Interstates I-95 and I-20. Open year round, the Market showcases some of the state's freshest and finest produce but it has also become a prime location for the ornamental horticulture and floriculture industry. The Pee Dee Market is a destination stop on the way to Myrtle Beach and for travelers north and south along the eastern seaboard.
The Pee Dee State Farmers Market is situated on 55 acres on US Hwy. 52 at 2513 W. Lucas St., Florence, SC.
one and half miles from major I-95 exit 164 three miles from I-20/I-95 spur
halfway between Florence and Darlington, SC
more than 700,000 visitors annually
Retail Hours:
8 AM – 6 PM, Monday – Saturday
Admission and parking are free.
Regular Market Hours:
Open Monday – Saturday all year
8:00 a.m. – 6:00 p.m.
Closed Thanksgiving Day and Christmas Day
Market Holiday Hours:
Day after Thanksgiving until Christmas Eve
8:00 a.m. – 8:00 p.m. Monday – Saturday
Noon – 7:00 p.m. Sunday
Office Hours:
Open Monday – Friday
8:30 a.m. – 5:00 p.m.
Closed on State Holidays