Commissioner Hugh Weathers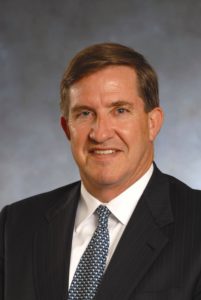 Hugh E. Weathers has been serving as South Carolina's Commissioner of Agriculture since September 2004.  Under Commissioner Weathers' leadership, the Department has created the Certified SC Grown branding program to help consumers easily identify and purchase South Carolina products, while increasing market opportunities for farmers across the state. In 2009, Commissioner Weathers introduced the 50 by 20 goal to grow the economic impact of South Carolina agribusiness (agriculture and forestry) from $34 billion to $50 billion by the year 2020.
Under his guidance, the Department has also introduced the Agribusiness Center for Research and Entrepreneurship (ACRE), an industry-driven ag research initiative that seeks to provide additional economic prosperity for SC agribusiness from within the state and from across the globe. ACRE houses a unique research platform devoted to addressing specific challenges for industries that can provide more market opportunities to South Carolina agribusinesses and farmers.
Commissioner Weathers was born in, and still resides in, Bowman, South Carolina and is a fourth-generation farmer.  He graduated magna cum laude from the University of South Carolina in 1978, earning BS Degrees in Accounting and Finance.  He was inducted into Phi Beta Kappa in 1977.  Upon graduation, he was employed as a Corporate Banking Officer with C&S National Bank before returning to Weathers Farm.  He was awarded an honorary Doctorate of Humanities in Public Service from the University of South Carolina in 2019.
The Commissioner serves on numerous local, state, and national agricultural, business, economic development, and banking committees and boards.  In 2011, he was inducted into the South Carolina Dairy Hall of Fame and has received numerous other awards and recognitions.
He is married to the former Blanche Gramling of Spartanburg County, who grew up on her family's peach farm. They have three sons: Gill and his wife Elizabeth, Edward and his wife Anna, and Julius and his wife Sara, as well as three grandchildren. The Weathers are members of Orangeburg First Baptist Church.
Commissioner Weathers considers it a privilege to serve the citizens of South Carolina and to lead our state's largest industry — agribusiness.
To contact Commissioner Weathers' office, click to the Office of Commissioner.