Anderson's Providence Farm Is About Relationships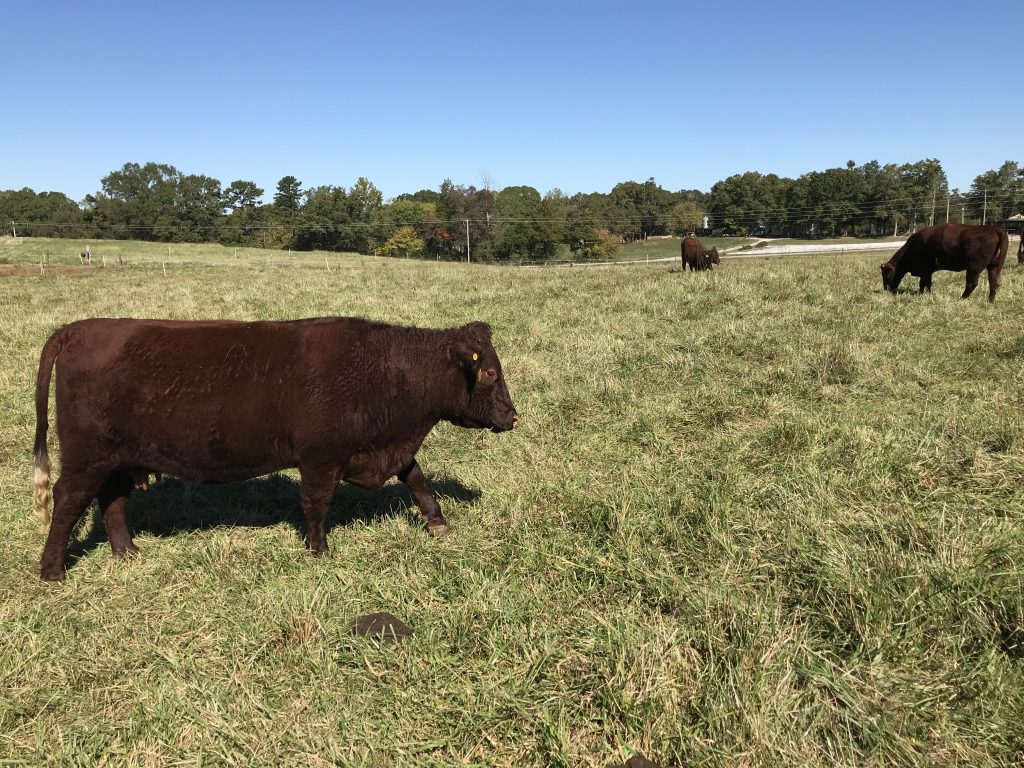 Providence Farm cows are moved frequently to new pasture. Photo by Eva Moore.
Farming By Faith
Anderson's Providence Farm Is About Relationships 
By Eva Moore
 This story appears in the Nov. 7, 2019 issue of the South Carolina Market Bulletin.
Donald Snow presses his boot down on the temporary fence so his wife Colleen and two S.C. Department of Agriculture staffers can step over it. In the field ahead are Devon cows — some grazing, some staring at us. One has just given birth, her calf so new she's still licking it to remove the afterbirth.
The Snows practice rotational grazing, moving their cows frequently to new sections of pasture, with a flock of laying hens rotated through behind them to fertilize and aerate the soil. Hence the temporary fencing — and the sought-after grass-fed beef.
Their business has earned a reputation in Upstate restaurant circles, with clients like Husk Greenville and Golden Brown & Delicious carrying Providence Farm beef and pork. (The latter restaurant's owner wrote on Instagram in January of their beef, "I haven't found anything else that touches it for flavor and quality.")
While they used to have to seek out clients, "Now, our last four to five restaurant clients have called us," Donald says — though he adds that they're still looking for a few more. "How do we sell more product? We build relationships. If we show people that we care about what they're doing, they'll buy from us."
Before they started their farm in 2015, Donald didn't have any experience raising livestock. Colleen had been a commercial realtor. The two met at Anderson, South Carolina's NewSpring Church, and together formed a vision of a business that would allow them to nurture people who were working in ministry.
"We threw out tons of ideas: 'What's the craziest idea? How about a farm?' Whatever we were going to do, it needed to fund ministry," Donald says.
They spent the first several years leasing land to feed their growing herd, shuttling cows between properties. But it wasn't working for them.
"All of our properties were so spread out. It felt so disconnected all the time," Colleen says.
"She used to say, 'The farm is robbing our life,'" Donald says.
"It felt like that — our marriage, our time. No vacation. We were at our wits' end," she says.
That's when Walker Century Farms came into the picture. Drs. William and Nancy Walker — a physician and a retired Clemson plant geneticist, respectively — were raising Devon cattle and owned hundreds of acres of land on a farm dating back to 1897. But the Walkers were aging. According to Colleen's account, William Walker had searched for a farm manager to no avail, and was ready to start selling off cattle.
Instead, the Snows partnered with the Walkers, moving all their cattle onto Walker land in late 2018, with Donald taking charge of both herds. The Snows describe the Walkers as "family" now — a partnership between a longtime family farm and a first-generation one.
The future holds a lot. One of the Snows' expansion plans involves an entity called Providence Farm Provisions, under which they plan to partner with farmers who agree to abide by certain guidelines to be able to sell their meat under the Providence Farm Provisions name.
The Walkers have built an event venue and a market on the farm site. And eventually, the Snows plan to build guesthouses for visiting ministers.
"It's a 10-, 20-year plan, but it gives us a why for what we are doing," Colleen says. "And woven in with all that is stewardship of the land, stewardship of your body, eating seasonally."
"Integrity's really important to us," she says. "This is a long game."
---
Like what you see? Subscribe to the Market Bulletin here for just $10 a year.