South Carolina's Strawberry Season Is In Full Swing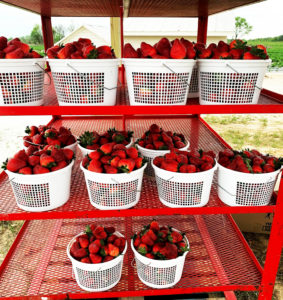 Strawberry Surprise
South Carolina's Strawberry Season Is In Full Swing
Story by Eva Moore, SCDA
Photo via Dixie Belle's Facebook page
This story appears in the April 16, 2020 issue of the South Carolina Market Bulletin.
For South Carolinians, strawberry season couldn't have come at a better time.
As COVID-19 cases multiply, so have feelings of dread and uncertainty for many people in the state. But the sweet, bright-red berries hitting roadside stands across the Palmetto State are a sign that nature keeps moving forward – and so do farmers.
Sam Hall, who co-owns Bush-N-Vine Farm (bushnvinefarm.com, facebook.com/bushnvinefarm) with his parents, says the 2020 season started about 30 days ahead of schedule.
"We had a milder winter," Hall explains. "And February was wet, but then it was drier in March and April, which is really good for fruit."
Bush-N-Vine sells strawberries at its farm between the towns of York and Clover, as well as at a smaller roadside market in Rock Hill. Demand has been strong at both spots. The company also operates a CSA program and has been taking a lot of phone orders for curbside pickups.
"We've just been picking as fast as we can go," he says.
Ashleigh Forrest and her husband Matt own and operate the strawberry division of Dixie Belle, Inc. (dixiebellepeaches.com, facebook.com/dixiebellepeaches) Best known for its peaches, Dixie Belle diversified three years ago after losing some varieties to a cold snap. So far, 2020 is a strong year for their strawberries.
The coronavirus hasn't dampened people's enthusiasm for fresh fruit, Forrest says.
"So far we haven't really seen any effects of the virus at our roadside market," she says. (The company operates a stand at 1500 Highway 191 in Johnston.) "We've had several repeat customers – that makes us feel good, like we have a good product."
"It's been a nice thing to have in this time because people are baking and cooking a lot," she says. "Good food just makes you feel good – it's something normal that maintains you through this virus."
Consumers should start seeing South Carolina strawberries in some grocery stores any day now.
Because of the early start to the season, supply was a little low in the initial weeks, but it should be strong by mid- to late April, explains LauraKate McAllister, a marketing specialist with the South Carolina Department of Agriculture.
Asked whether there are any concerns about shoppers avoiding fresh produce in favor of preserved and prepared foods during the COVID-19 outbreak, McAllister says she thinks farm-fresh South Carolina food will resonate with consumers this year.
"I think that people in general are buying frozen food to stock up, but I think people are seeking out ways to support local farmers and opting for fresh and local when possible and when it's convenient for them," she says.
McAllister notes that many farms, including strawberry growers, have quickly shifted to a direct-to-consumer sales model – launching or expanding CSA programs, offering phone and online orders, and touting their roadside stands, where consumers can buy local berries with minimal person-to-person contact.
SCDA has a list of South Carolina farms, markets and wholesalers offering direct-to-consumer sales at agriculture.sc.gov/coronavirus/local.
To find Certified South Carolina strawberry farms, consumers can visit certifiedsc.com.
Like what you see? Subscribe to the Market Bulletin here for just $10 a year.