Rita Bachmann Applies Her Farming Background to Lowcountry Gardens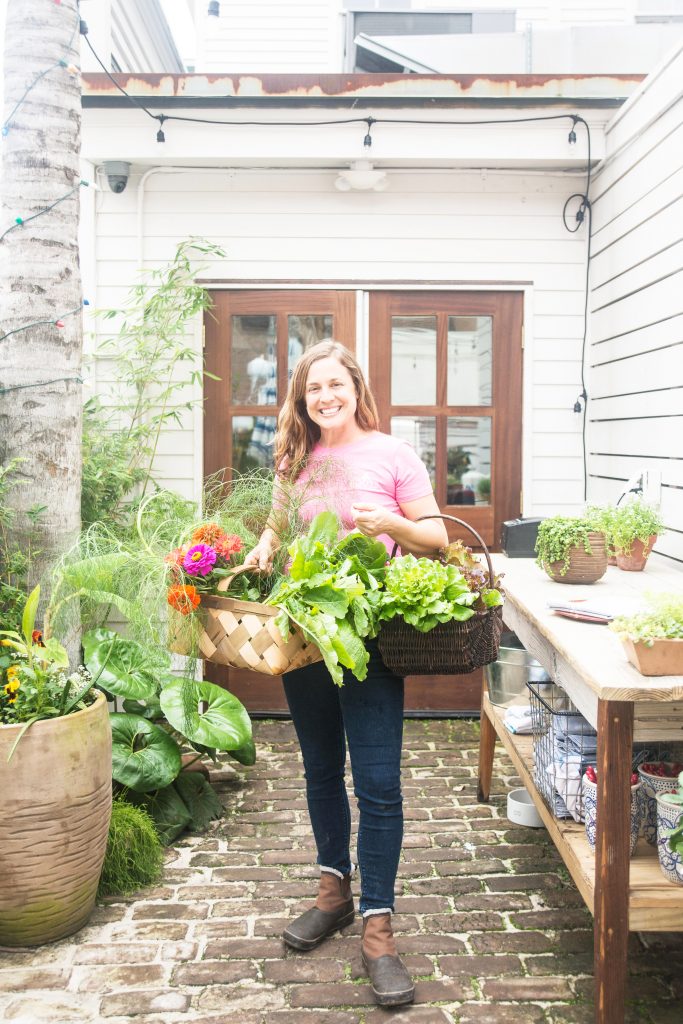 Photo courtesy of Rita Bachmann
A Helping Hand
Rita Bachmann Applies Her Farming Background to Lowcountry Gardens
By Eva Moore
 This story appears in the Oct. 3, 2019 issue of the South Carolina Market Bulletin.
A former organic farmer, Rita Bachmann launched the gardening consulting business Rita's Roots Backyard Harvest in 2011. We spoke with Bachmann about farming, her business, and tips for South Carolina gardeners. Here are some highlights of the interview.
On her first foray into gardening:
In college I started getting interested in where food comes from, and I realized I didn't know any farmers. I remember growing my first heads of lettuce and watching them grow and grow and grow and having no idea when to harvest.
On her first farm job, in upstate New York:
I learned a lot about harvesting vegetables. And I learned how to work really, really hard, harder than I'd ever worked in my entire life.
On why she changed careers after five years of Lowcountry farming:
I never ended up owning any land of my own, but I was managing a harvest crew, a sales crew, a delivery crew. I got burned out on having so much responsibility and working endless hours that culminated in the farmers market every Saturday, and by the time that was over I had no energy to do anything.
I took a year off from farming; I guess I retired from farming. But I still had this burning passion for organic produce and getting it into people's mouths and on their dinner plate. I had a couple people in my life suggest becoming a garden consultant.
On her business model:
People generally want to grow an organic vegetable garden, and we start with our site assessment and consultation where we look throughout their yard with our solar pathfinder to find just the right spot sun-wise for their garden. We perform the garden installation or they can do it themselves.
We provide a service called Garden Guidance where I or one of my helpers goes to their garden once or twice a month. We bring all the organic gardening supplies they'll need, work side-by-side with them to teach them and coach them through the growing process. In between visits, we provide email and text message or phone call support if they have troubleshooting questions.
Sometimes we don't even see our clients; we just grow them a garden and they can come out and harvest as they wish.
I've added in gardening classes. I also recognize there is a need for good organic vegetable transplants in this area that was not being filled, so we have a very small nursery.
On how she uses technology:
In January I launched the Garden Growers Club, a twice-monthly communication from me to the members on what they should be doing in their garden at that time of year — what to plant now, what to do soon. Each issue has a video of some relevant garden tasks. We do one detailed vegetable of the month and go in-depth on how to grow it. We have some different recipes. We had some drought alerts, some insect alerts. In the winter we'll have frost and freeze alerts.
On when to plant your fall garden:
If you look in the USDA grower's handbook for the Southeast, specifically the Lowcountry, it tells you that you can start planting a lot of your fall crops in the middle of August, which I have found is still too hot, still too early. Maybe if you're in an agricultural situation where you have your drip lines and you're trying to make it to market early, you can kind of nurse things along, but in a garden situation I was finding too many plants were dying and the seeds weren't germinating. My personal planting calendar is shifting more toward planting at the end of September.
Visit ritasroots.com for more information.

Photo courtesy of Rita Bachmann
---
Like what you see? Subscribe to the Market Bulletin here for just $10 a year.