SCDA's Feed Safety Team Keeps Pets and Livestock Safe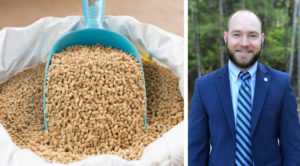 SCDA's Feed Safety Team Keeps Pets and Livestock Safe
Story by Eva Moore, SCDA

This story appears in the May 7, 2020 issue of the South Carolina Market Bulletin.
While many people know that the South Carolina Department of Agriculture works with farmers, fewer know that the department has a Consumer Protection Division tasked with everything from checking gas pumps to inspecting food manufacturers. The division has an entire team devoted to animal feed safety.
Austin Therrell is the Animal Feed Program Coordinator for the South Carolina Department of Agriculture's Food and Feed Safety Team. He answered some questions about the work he and his team do.
Market Bulletin: What does a typical week look like for an SCDA feed safety inspector?
Austin Therrell: An inspector's week for a feed safety inspector usually starts off at one of our many retail feed stores throughout the state collecting samples of livestock feed or pet food. Sample assignments vary throughout the year, but SCDA typically collects about 800 samples a year to test for numerous nutrients and contaminants.
The inspector brings the collected samples promptly to the SCDA Feed Laboratory the same day they are collected. The rest of the week consists of inspections at manufacturing sites across the state that make animal food or animal food ingredients, and follow-up inspections on potential compliance issues that are the result of labeling errors, sample results, or inspection findings. An inspector might also receive a phone call to follow up on a potential feed-related animal sickness or death.
How is South Carolina different from other states in the way we regulate feed, if at all?
Our Feed Safety Program works very hard to make sure we are as consistent with other states as possible when it comes to regulation. We also voluntarily participate in the Animal Feed Regulatory Program Standards, a national FDA grant program that makes sure we have the same standards as FDA and other states around the country. We feel that laws and regulations are easier to follow and less burdensome on the industry when they are closely aligned across state lines.
One thing that sets us apart from some other states is that we have a dedicated animal feed program.
That means we have the freedom to concentrate solely on feed issues in our state without having to balance other responsibilities such as fertilizer or pesticide regulation. This gives our feed inspectors the ability to be very knowledgeable and thorough in all they do.
What are some of the main violations you see?
The main violations we see are minor labeling and registration issues. In South Carolina we require all commercial feed products to be registered with SCDA annually. This gives us an opportunity to review the label for accuracy and truthfulness. Sometimes we see labeling claims that might be a little misleading, or required information missing from a label. We work closely with firms to address these minor violations so consumers can make wise  decisions when they go to the store to buy feed for their animals.
How has COVID-19 changed feed enforcement?
COVID-19 has temporarily limited the ability for inspectors to be out in public at our normal frequencies; however, SCDA is continuing routine work behind the scenes and will be resuming our normal schedule of sampling and inspections when it's safe for employees.
What drew you to feed safety?
I've always had a passion for animals and animal agriculture, and I've known since I was very young that that was the industry I wanted to work in. Many of our animals rely solely on us to provide them the nutrition they need to live and grow, and we have a responsibility to make sure that the feed we are giving them is safe and nutritious.
What do you wish everyone knew about your job?
I wish everyone could see how passionate the team of people is and how hard they work to make sure your animals have safe, high quality feed at the end of the day. We are here to protect the consumer, which in our case is twofold, you and your animals.
Like what you see? Subscribe to the Market Bulletin here for just $10 a year.