Ayer & Price Fruit Co., Inc.
Contact: Pat Vella
Address: 319 Little Chris Lane, West Columbia, SC 29172
Telephone: 803-926-4000
Clayton Rawl Farms, Inc.
Contact: Clayton Rawl, Spanky Rawl, or Chris Rawl
Address: 208C Wholesale Lane, West Columbia, SC 29172
Telephone: (803) 926-7295
rawlfarms.com
Ernest and Annie Mazyck
Contact: Ernest Mazyck
Telephone: (803) 465-4995
F & C Arellano
Contact: Fermin, Sergio, and Carlos Arellano
Address: 307 Little Chris Lane, West Columbia, SC 29172
Telephone: (803) 739-9490
Fresh Farm Produce
Contact: Adam Blalock
Address: 208-H Wholesale Lane, West Columbia, SC  29172
Telephone: (910) 880-2736
Hamper House / ProAg
Contact: Erika McCurley
Address: 307 Little Chris Lane, West Columbia, SC  29172
Telephone: (803) 771-6800
proagonline.com
Jacob's Produce
Contact: Tish Knight
Address: 3483 Charleston Highway, West Columbia, SC  29172
Telephone: (843) 703-9777
L and N Produce Co., Inc.
Contact: Bill Lawrence, David Nidiffer, Marke Nidiffer
Address: 307 Little Chris Lane, West Columbia, SC 29172
Telephone: (803) 254-9395
Mike's Produce
Contact: Mike Baker
Address: 711 Produce Lane, West Columbia, SC  29172
Telephone: (803) 240-1710
Red Rack Boys
Contact: Jason McCarter
Address: 711 Produce Lane, STE D, West Columbia, SC  29172
Telephone: (864) 497-7668
Senn Brothers, Inc.
Contact: Jimmy Senn, Greg Senn, or Gary Prince
Address: 327 Wholesale Lane, West Columbia, SC 29172
Telephone: (803) 252-8723
sennbrothers.com
Severt & Sons Produce Co.
Contact: Mike Severt or Shange Crenshaw
Address: 324 Wholesale Lane, West Columbia, SC 29172
Telephone: (803) 256-1721
severtsproduce.com
Southern Produce
Contact: Nate Crocker or Judy Allman
Address: 322 Little Chris Lane, West Columbia, SC 29172
Telephone: (803) 771-7625
Williams Produce
Contact: Rodney Williams
Address: 711 Produce Lane, Ste B, West Columbia, SC 29172
Telephone: (803) 791-4606
Wilson's Nursery
Contact: Jimmy Wilson
Address: 3483 Charleston Highway, West Columbia, SC  29172
Telephone: (803) 327-6116
Yandle's Plants
Contact: Bill Yandle
Address: 3483 Charleston Highway, West Columbia, SC  29172
Telephone: (803) 252-9403
Seasonal –  (April thru June)
---
Farm Fresh Sheds
The Farm Fresh produce sheds host vendors who sell produce grown out of state.
For more information, please contact the Market Office at 803-737-4664.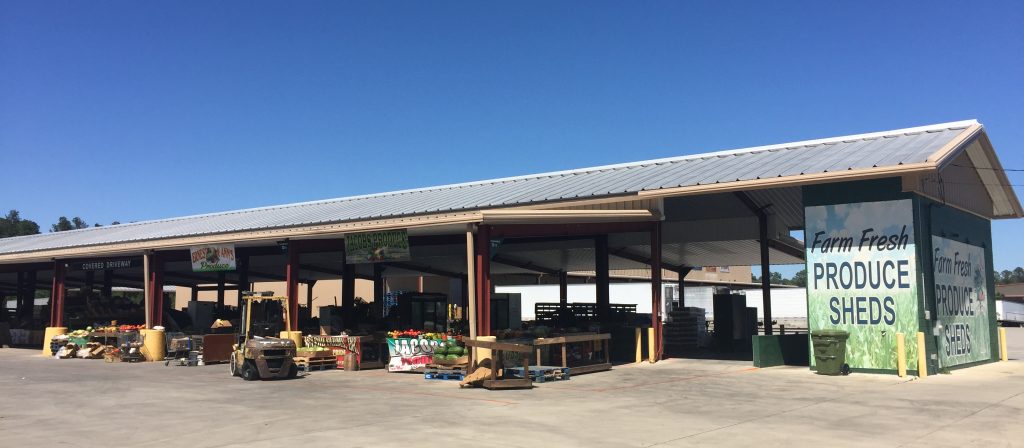 ---
Market Pavilion
Located in the center of the market, the Market Pavilion houses The Market Restaurant as well as the Market Country Store.
The Department of Natural Resources also has an office in the building where South Carolinians can purchase fishing and hunting licenses.