Marianne Catalano, Peanut Promotion Marketing Specialist
mcatalano@scda.sc.gov
803-734-0338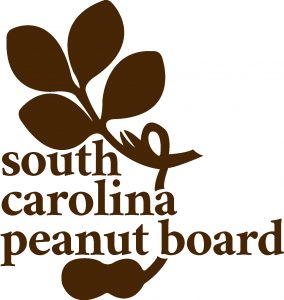 The South Carolina Peanut Board is a farmer-led organization whose mission is to increase consumer awareness and consumption of peanuts while creating a positive economic impact for producers.
The South Carolina Peanut Board offers several services. The Board has educational packages (teacher kits) and educational videos for teachers. Also, posters and small packages of peanuts are available. Several different types of recipes are available along with other consumer information.
Funding for Board activities comes solely from producer assessments. The Board of Directors is made up of peanut producers elected by peanut producers from South Carolina.
Learn more at aboutpeanuts.com
---
South Carolina Peanut Board Members
District 1
Dupree Atkinson
1118 Willow Brook Place, Mullins, SC 29574
Marion County
atknsn9@aol.com
(H) 843-464-8637, (C) 843-430-1677
Term Exp: 12-31-2023
Brent Cogdill
1500 HT Everett Road, Pinewood, SC 29125
Sumter County
brentcogdill@yahoo.com
(C) 803-518-2121
Term Exp: 12-31-2021
Shane Willoughby
7990 Highway 917, Nichols, SC 29581
Marion County
swillobfarms@yahoo.com
(C) 843-333-8613
Term Exp: 12-31-2022
Steven Neal Baxley, Jr.
1625 Troy Atkinson Rd, Mullins, SC 29574
Marion County
baxleyfarmsllc@yahoo.com
(H) 843-431-9896, (C) 843-431-8878
Term Exp: 12-31-2021
District 2
Brent Crapse – VICE CHAIRMAN
(H) 7421 Savannah Hwy, Estill, SC 29918
(W) 7420 Savannah Hwy, Estill, SC 29918
Hampton County
bcfarmsllc@yahoo.com
(H) 803-943-8868, (F) 803-625-1047
Term Exp: 12-31-2022
James "Jimmy" W. Mole
Mole Farms
1939 McMillian Rd. Brunson, SC 29911
Hampton County
(H & F) 803-632-2436, (C) 803-571-0140
Term Exp: 12-31-2021
Richard Howard Rentz, Jr. – CHAIRMAN
5939 Farrells Rd. Branchville, SC 29432
Bamberg County
rhrentz@yahoo.com
(H) 803-245-5991, (C) 803-793-7642
Term Exp: 12-31-2023
Harry F. Wimberly
2782 Cattle Creek Road, Branchville, SC 29432
Orangeburg County
bowmangin@mindspring.com
(H) 803-829-2669, (W) 803-829-2561, (C) 803-600-6492, (F) 803-829-3392
Term Exp: 12-31-2022
Advisory
Dr. Dan Anco, Peanut Specialist and Assistant Professor, Department of Plant and Environmental Sciences, Clemson University – Edisto Research and Education Center
Edisto REC, 64 Research Road, Blackville, SC 29817
danco@clemson.edu
(W) 803-284-3343 Ext. 261, (C) 630-207-4926
Marianne Catalano, Marketing Specialist
SC Department of Agriculture, PO Box 11280, Columbia, SC 29211-1280
mcatalano@scda.sc.gov, marianne@aboutpeanuts.com
(W) 803-734-0338, (C) 252-458-7222, (F) 803-734-9808
Ex Officio
Frances H. Price, Chair, Agriculture Commission of SC
433 Peach Festival Road, Gilbert, SC 29054
(W) 803-892-2457